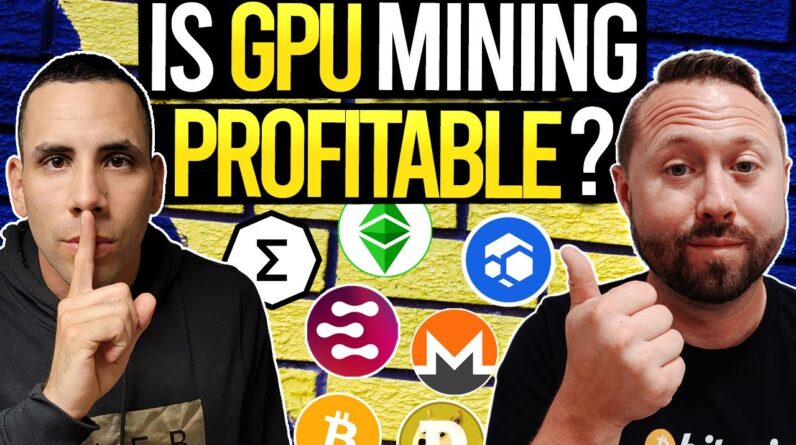 Welcome to the Post-Ethereum Age of Crypto Mining
Today we are going to delve into an in-depth discussion about the current state of GPU mining, focusing on the impact of the Ethereum merge, which is still being felt across the crypto world. This conversation aims to provide some insights and context around the situation and present some potential strategies for miners navigating these uncertain times.
The Ethereum Merge: Behind the Scenes
The Ethereum merge has brought significant changes to the GPU mining landscape. The merge was initially met with anxieties and pessimism, as miners feared that it could result in decreased profits. This fear was further exacerbated once they began to feel the impact of the merge on their operations.
Over the past week, following the merge, GPU miners have had to face the harsh reality of the post-Ethereum age. The use of Ethereum as a cornerstone of GPU mining has faded, resulting in many miners having to switch off their operations.
DJ Minds, a fellow content creator, and miner shares his perspective; "I knew it'd be bad… I had to turn off pretty much everything.". With most operations in standby mode, DJ and I have witnessed the emergence of a crypto winter, a period where profitability plummets to zero or worse.
Shifting Strategies: Looking For The Silver Lining
This shift in circumstances has forced miners, like DJ and myself, to rethink our strategies. The focus has moved from chasing after Ethereum to exploring other, less popular coins. Despite the low yields and profitability, we both are dabbling in these less-known coins with the hope that one day they may take off.
But how does one find these potential hidden gems? Tools such as CoinMarketCap's filter setting, allow miners to search for proof-of-work coins that can be mined and are showing consistent growth over a seven-day period.
However, mining these low-profile coins is not without its downsides. DJ illustrates; "I'm just putting like a single GPU on it and making thousands of the coins, and I'm doing it for a few days… What do I lose doing it? Maybe I'll lose like 12 bucks in power but potentially one day if those coins ever took off, I could make lots of money off it."
Ergo's Hashrate and Difficulty Dilemma
High on the list of alternative crypto coins is Ergo. Ergo has attracted a lot of attention from GPU miners in the fallout from the Ethereum merge. While some miners have found the switch to Ergo profitable, for most, the high difficulty and hash rate have made it a tough landscape to navigate.
Ergo operates on a different framework to other coins, seeing difficulty and hash rate not run side by side, but instead passing each other. This is due to their algorithm trying to prevent pool hopping, meaning the difficulty does not adjust instantly to the drop in hash rate.
The low adaptation speed of Ergo's difficulty has left many miners feeling short-changed. They argue that the difficulty should decrease as the hash rate decreases in order for miners to maintain the same level of profits.
Regulating the Crypto Market
Adding to the growing concerns of GPU miners, is the recent development in the US, which threatens to exert control over the Ethereum network. The SEC has turned its attention to the Ethereum network, declaring that it has control over the network thanks to its presence on US soil, causing Ethereum's price to drop by 20%.
What does this development mean for GPU miners? It further emphasizes the uncertainty and volatility that surrounds the crypto mining world right now. With the authorities stepping in, it is clear that miners are not only grappling with the technical and financial difficulties of the Ethereum merge but also with the looming regulatory changes.
Is GPU Mining Still Profitable?
The answer to this question seems to be a resounding 'No'. DJ Minds graphically paints this picture, stating: "I have maybe 170 GPUs…each one is losing me anywhere from 20 to 35 cents per GPU per day." In this bear market, the thin profits that were once enjoyed by miners have all but disappeared.
Despite this bleak outlook, there is an undercurrent of optimism. Many believe that the bear market is temporary and provides an opportunity. DJ opines, "Trust me, a year or two from now, you'll be very happy you did." The thinking here aligns with the concept of filling your bags during the market downturn to reap substantial rewards when the market inevitably rebounds.
Concluding Thoughts
The grip of the Ethereum merge on the world of crypto mining continues to squeeze. What was once seen as a profitable venture in Ethereum mining is now a game of survival. However, it's not all doom and gloom. The shift in the market could usher in new opportunities for miners willing to take risks and explore less charted territories.
The story of the Ethereum merge is far from over, and its true impact may yet evolve further. However, for miners grappling with these challenging times, the core message is to stay strong, stay involved, and keep an eye out for those potential golden opportunities.
Sponsors Announcement
Lastly, we would like to thank our partners, The GPU Hangar, Misfit Mining, and The Meter Box Company, for their continued support. For the entire month of September, we are running a massive giveaway, giving away over seven thousand dollars in prizes!