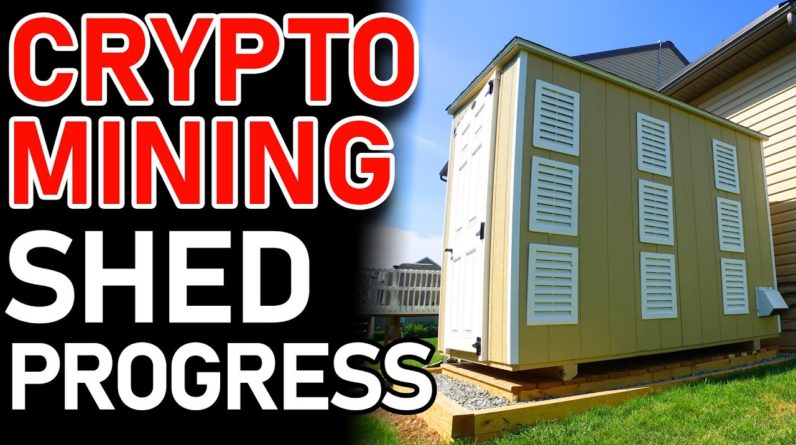 Welcome to the Crypto Mining Shed Project
The journey of building and filling up a crypto mining shed with GPUs is an exciting one, and this article will walk you through some essential steps and useful tips to help make your project a success. From soundproofing the shed using foam acoustic tiles to installing fire safety equipment and effective smoke detectors, we will cover it all in this guide. So let's dive right into it!
Soundproofing the Crypto Mining Shed
Foam Acoustic Tiles
In this crypto mining shed project, we have a total of 50 foam acoustic tiles. These are designed to reduce noise and provide a more pleasant working environment in the shed by dampening the sound of noisy mining equipment.
Installation Techniques
There are several ways to attach these tiles to the walls and ceiling of your shed. The recommended method for this project involves using 3M double-sided sticky tape adhesive, which can be found at your local hardware store. This is an easy and effective way to secure the tiles, without having to put numerous small holes in your shed.
Alternatively, you can use screws or liquid nails to attach the tiles, though this may cause more damage to the shed's structure.
Corner Acoustic Foam Pieces
Another helpful solution to further soundproof the shed is to add corner pieces that help absorb and decrease sound reflection within the space. These pieces can be purchased separately, and placing them in the corners of the shed will provide better sound insulation.
Fire Safety Equipment in the Crypto Mining Shed
Fire Extinguisher Balls
Safety should always be a top priority in any project, and fire safety is no exception. In this crypto mining shed project, two fire extinguisher balls are installed. These are useful devices that can extinguish different types of fires, such as those caused by electrical faults or overheating equipment.
Each ball should be mounted on a bracket in different corners of the room at a relatively high position. In the event of a fire, the ball will release fire extinguishing powder to help douse the flames and protect your home, shed, and mining equipment from further damage.
Smoke and Carbon Monoxide Detectors
Another essential safety feature in any crypto mining shed is installing reliable smoke and carbon monoxide detectors. Wireless interlinked detectors like the X-Sense combination smoke and carbon dioxide detectors used in this project are an excellent choice because they can be connected to your home's wireless network and, on some models, even to an app on your phone.
This offers added peace of mind because you can receive alerts and notifications if any issues arise in the shed while you're away from home.
Finishing Touches on the Crypto Mining Shed
Once the sound insulation and fire safety measures are in place, it's time to install the remaining foam acoustic tiles and corner pieces. Using the remaining tiles, you can attach them in strips along the walls of the shed, focusing on areas that are fully exposed.
With these final touches in place, your crypto mining shed will be ready to house and operate your mining equipment safely and efficiently.
Upcoming Additions and Changes in the Crypto Mining Shed
As you continue to maintain and improve your crypto mining shed, there are more exciting updates and additions to look forward to, such as:
New Mining Racks
In the coming weeks, new mining racks will be added to the shed to house GPU rigs securely and efficiently. These installations will allow you to expand your mining operation and increase your project's earning potential.
Asic Miner Cooling System
A proposed fanless cooling system for an ASIC miner using AC Infinity inline fans will help improve the efficiency and quiet operation of the shed. This will not only enhance the overall working environment but also help to prolong the lifespan of the mining equipment.
In conclusion, building a crypto mining shed is an exciting and rewarding project that requires careful planning and execution. From soundproofing to fire safety, every aspect of the project contributes to the success of your mining operation. By following these tips and recommendations, you'll be well on your way to creating a safe, efficient, and enjoyable workspace for your mining endeavors.