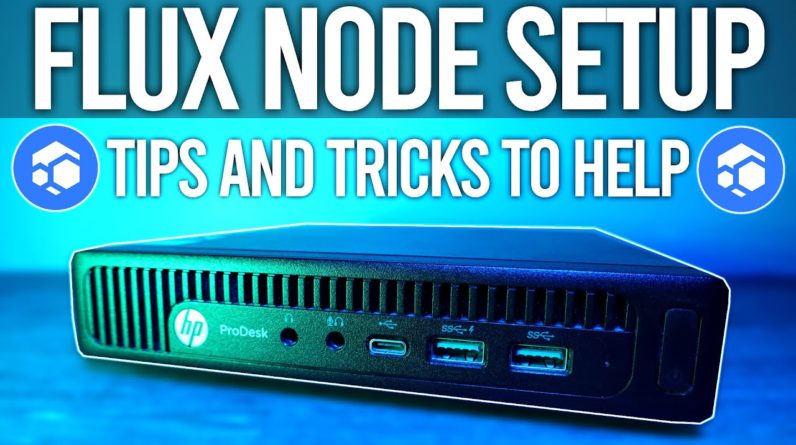 Setting Up A Flux Node: Top 10 Things I Learned
In this article, I'll be sharing my experience in setting up my first Flux node with the help of Max Voltage, a well-known figure in the mining community. Here are the top 10 things I learned during the process of setting up and managing my first Flux node:
1. Give Yourself Time
Setting up a Flux node takes a considerable amount of time, so it's essential to allocate a significant chunk of it, especially if you're a beginner. It took Max and me 2.5 hours to set up my first node, and the learning curve is quite steep.
2. Sending Collateral
Setting up a Flux node collateral isn't as straightforward as one might expect. To start, you need to transfer the required amount of Flux (1,000 Flux for a Cumulus node) to your own Zelcore wallet. This comes as a surprise to many beginners.
3. Half the Setup Process Can Be Streamlined
50% of the time spent during setting up the node could potentially be streamlined using a ready-made image with Linux and the Flux OS pre-installed. This would make setting up a Flux node similar to using Balena Etcher for Hive OS setup.
4. Prepare to Wait
There's a lot of waiting time involved in getting the node up and running. Downloading Linux, updating the software, downloading the Flux OS, and updating the node takes a considerable amount of time.
5. Technical Savviness Required
Setting up a Flux node isn't for the technologically challenged. If basic tasks like setting up Hive OS seem difficult, you might want to avoid attempting to set up a Flux node without any assistance.
6. Expect Hiccups Along the Way
Things rarely go as planned during the Flux node setup process. Max and I encountered several snags along the way, such as issues with updating and setting up notifications in the Flux node software.
7. No Up/Down Notification Statuses
There's no built-in up/down notification feature for Flux nodes, which means you need to consistently monitor the node status. Integration with Hive OS would be beneficial in simplifying this process.
8. Keeping Your Flux Node Updated
Flux nodes need to be frequently updated, and failing to do so can result in consequences like being kicked to the end of the line. Updating your node every few days is crucial for maintaining performance.
9. Losing Your Place in Line
If your Flux node goes offline or is out of sync for too long, you may lose your place in line, which means you won't get paid. Ensuring the stability of your node helps prevent getting pushed to the back of the line.
10. Benchmarking and Requirements
Soon, the Flux node team will enforce the benchmark requirements, which include upload and download speeds for running a node. However, Project Titan is an upcoming feature that will enable more people to participate in Flux nodes without these strict requirements.
In Conclusion
Setting up and managing a Flux node can be a rewarding experience, but it's crucial to be prepared for the challenges and time commitment involved. Learning from others' experiences and sharing tips within the mining community can help make the process smoother and more enjoyable for all.